A healthy, confident smile can change your life. 
We believe everyone deserves to feel the self-confidence that comes from a beautiful, healthy smile which is why we offer the latest orthodontic technologies. No matter your age, from early childhood to adulthood, we love to help our patients pursue the smile of their dreams. 
Financing Your Treatment
There's no need to pay for your orthodontics all at once. We offer financing options that break your treatments into easy payments – and we work with many insurance companies to lower the cost of your orthodontic care. 
Treatment Options
We offer orthodontic treatments that work for kids, teens, and adults. Invisalign, clear braces, and traditional braces are available for all age groups. Ask Dr. Bennett about what will work best for your smile
.
Technology You'll Love
Orthodontics is very different today than it was years ago. At our office, it's a fun experience. We use technology that makes it easier than ever to straighten your smile with braces or aligners.
​
A graduate of the University of Pennsylvania, Dr. Greg Bennett completed his orthodontic residency at the Albert Einstein Medical Center. In practice since 2002, Dr. Bennett stays abreast of the latest technological advances in orthodontics with memberships in the American Association of Orthodontists, American Dental Association and the Pennsylvania Association of Orthodontists.
Dr. Bennett is married and has two children. He often donates his time to multiple booster clubs and local sports teams, and he enjoys horses and hobby farming.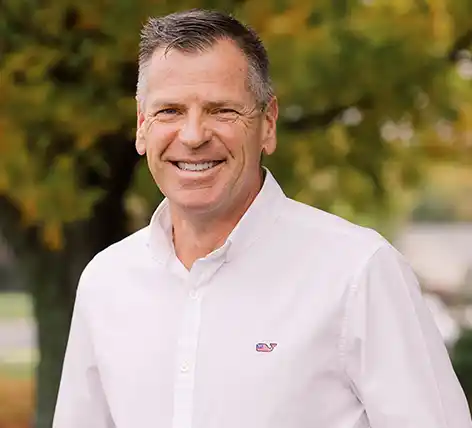 How Can we help you improve your smile?
State of the Art Orthodontic Care With
Braces & Invisalign In York PA
Your smile should be as amazing as you are! Our mission is to create a smile to fit each individual. Whether you are a child, teen, or adult, we will use the latest technology to give you a smile you will love. Our York and Dillsburg orthodontic offices employ the latest innovations in orthodontic care, including Invisalign and state-of-the-art braces. Our staff has helped Pennsylvania residents create beautiful smiles that will last a lifetime
For children, teens, or adults looking to straighten their teeth with braces, Hunters Hill Orthodontics offers both metal and clear braces
We use the most innovative technology to provide our patients with the latest treatment methods available.
Are you ready to get started? Here is everything you need to know!
For children, teenagers, or adults that desire a more aesthetic and convenient treatment option, Hunters Hill Orthodontics offers Invisalign®. We have been using Invisalign® to straighten teeth for over 15 years and are proud to be one of the top-ranked Invisalign® providers in the area!  
Clear aligners are only as good as the orthodontist who designs your smile. We can't wait to help you get the smile you desire. Learn more about getting started with Invisalign today!
Invisalign aligners are now available for children as young as 7! If your child would prefer aligners, we can help! Just like standard Invisalign, Invisalign Teen uses a series of clear, BPA-free plastic, removable aligners to move teeth into the correct position.
At Hunters Hill Orthodontics, we start by using our iTero scanner to take a quick, comfortable scan of your child's teeth and gums. A 3D model of the  mouth is created from the scans and Dr. Bennett designs the exact tooth movement. The custom aligners are created based on Dr. Bennett's specifications.
Learn more about Invisalign teen and how you can start today!
We want to make you smile
We know how important a smile is… it opens doors, closes deals, and changes lives. We have been focused on our patients since we opened our doors in York more than 20 years ago. We offer exceptional care without compromise.
Orthodontics Is All We Do
We focus on one thing…creating healthy, functional, beautiful smiles! Dr. Bennett has the tools and knowledge to create the smile you want and deserve.
We offer affordable financing
We offer flexible down payments and monthly payments that fit your budget. We are happy to accept many orthodontic insurance benefits and FSA/HSA payments. 
Convenient Hours and Office
We know how challenging schedules can be, which is why we offer early morning and lunchtime hours to fit your schedule.
Technology you'll love
We offer high-tech mini brackets, which are smaller brackets that include all the benefits of traditional brackets, providing efficient treatment times, little discomfort, low forces, and gentle tooth movements. We invest in the latest technology in orthodontics to ensure faster treatment times, fewer appointments, and better treatment outcomes.
We have an average of 5.0

We can't wait to meet you!
You're just a phone call away from a new smile… get started now!